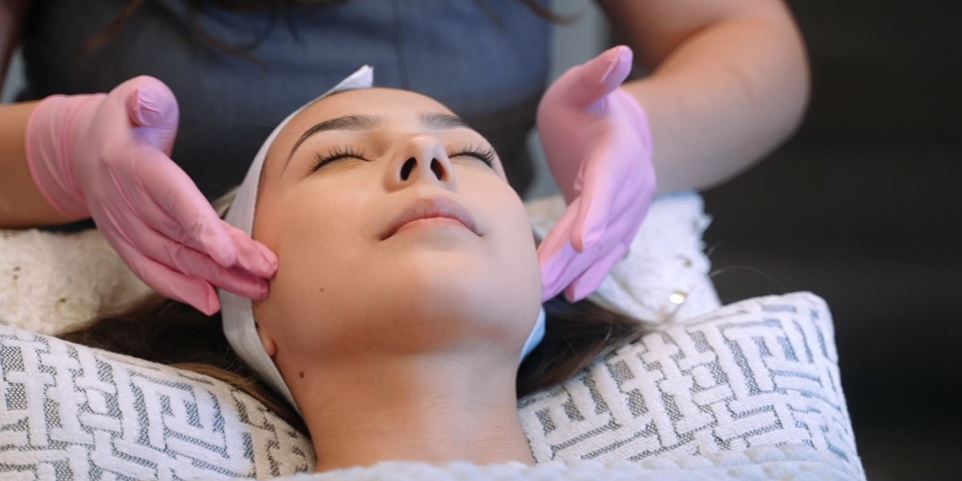 It is no surprise that HydraFacial treatment has become one of the most popular facial trends in the modern world. More and more people are turning to the HydraFacial as their primary functional, integrative facial skincare spa routine, thanks to its gentle, non-invasive treatment and no downtime but GREAT results.

What is a HydraFacial?

HydraFacial is a skin resurfacing and anti-aging treatment that addresses multiple skin concerns at once. HydraFacial can take care of all your skin needs, whether you have buildup and clogged pores or are unhappy with dull and dehydrated skin.

A HydraFacial treatment uses hydra-dermabrasion technology to remove impurities, leaving behind soft, beautiful, and more luminous skin.

What does HydraFacial do?

The HydraFacial treatment plan combines four clinical skin rejuvenation techniques: cleansing, exfoliation, extraction, and hydration. Combining the benefits of these skin treatments allows one to achieve clearer, more beautiful skin with no discomfort or downtime!

The HydraFacial is a non-invasive skin treatment that uses the latest technology to give noticeable, long-term results.

A HydraFacial treatment can help with a variety of skin concerns, such as lines and wrinkles, uneven skin tone, dull and acne-prone skin, and so on.

It is a truly revolutionary facial because no other facial treatment can provide thorough cleansing, smoothing, and skin restoration with no irritation or side effects and no downtime.

Benefits of HydraFacial Treatment

Here are a few benefits you can get after this treatment.

Hydrates the skin

The hydrafacial moisturizes and hydrates your skin.  It also softens, plumps, and smoothes the skin after facial treatment. However, several people who underwent the treatment reported noticing delayed signs of aging, such as fine lines and wrinkles.

Restores firmness

Another benefit of hydrafacial is that it firms and tightens your skin. It helps to tighten the pores, preventing them from accumulating all of the dirt and oils that contribute to developing pimples and acne. It also enhances the radiance of the skin and smoothes the texture.

Suited for every skin type and tone

One of the most noticeable benefits of hydrafacial for the skin is that it is suitable for all skin types and tones. It is also appropriate for people of all ages. It not only treats pimples and acne scarring in teenagers but also hyperpigmentation in middle-aged patients and signs of aging in older people.


Safe and effective

It causes no pain, no scarring, and no permanent damage to the skin. It is suitable for all skin types and helps to restore the skin's natural glow and shine.

Customizable treatment

The experts will tailor the entire procedure to your specific skin type, skin texture, and level of damage. Everything, from the chemical peel's composition to the moisturizers used, is customized to your skin.


Amazing for sensitive skin

It is common for individuals with sensitive skin to avoid using harsh chemicals or treatments. The benefits of hydrafacial for skin also are effective on sensitive skin. Vacuum technology cleans the skin without causing skin damage or swelling.


Who is a good candidate for HydraFacial?

HydraFacial treatments are safe and require no downtime, so people of all ages can benefit from them without fear of severe side effects. Patients with sensitive skin do not need to be concerned about sensitivity or reactions. In addition, the treatment can be customized to an individual's skin type and needs.

Final Words

HydraFacials are one of the most popular skin care treatments today because they are non-invasive and great for almost any kind of skin, normal to oily or dry with acne or not. Moreover, if you are not sure what you need for your specific face, there is no need to worry either; the HydraFacial procedure is adaptable to most skincare needs, from hydrating treatments with serums that sink into the pores and deeper layers of skin to wipe out oil and blackheads to anti-aging ones that seek out signs of aging at their earliest stages.
About Author/ Author Bio
Dr. Judy Hinojosa, N.M.D. is the lead physician and founder of Vitality Wellness Clinic. She has been practicing Naturopathic Medicine for the past 13 years, building a state-of-the-art, environmentally- friendly Wellness Center in Arizona. She is a board-certified Naturopathic Physician and is a highly sought-after practitioner in her field, which has given her a high level of healing success with her patients.